 New Release of Suites
Wake up in Toronto's East End and be part of a neighbourhood with true character and community. Your new condo at Power + Adelaide awaits.
Welcome home. Register Now
Check out the neighborhood you should call home.
Step into a neighbourhood of authentic charm and understated community. Where some of the best shops and restaurants in Toronto still feel local. Close to downtown amenities like the Eaton Centre and steps away from the TTC. Come discover one of the many hidden gems at Home.
Your browser does not support the video tag.
Amenities

Residence
Find yourself at home in this modern abode, located in the centre of one of Toronto's most vibrant neighbourhoods.

Artists' Workspace
Ideate, create or collaborate in a space designed to foster all three.

Fitness Studio
Featuring a full complement of cardio machines and free weights.

Yoga Studio
Wake up or wind down in a place designed to nurture body, mind and soul.

Pet Spa
Because your pets deserve to feel at home, too .

Outdoor Pool
& Steam Rooms
Two ways to relax and refresh at home.

Meeting Room
& Lounge
Specifically designed to meet the needs of today's mobile professionals.

Event Room with
Caterer's Kitchen
An accommodating space, perfect for both larger groups and smaller, more intimate gatherings.

Community
Garden
An elevated oasis for getting closer to all things green.

Outdoor Grills
& Fireplace
Perfect for causal cooking and conversation.
Floorplans
Each suite is a showcase of open concept living at its finest. Exquisite attention is paid to every interior detail, with meticulously chosen finishes matched with the highest quality fixtures and appliances. Choose from a selection of our bachelor, 1 bedroom, 2 bedroom, and 3 bedroom suites.
Bedrooms
All
All
Studio
1 Bedroom
1 Bedroom + Den
2 Bedrooms
2 Bedrooms + Den
3 Bedrooms
Sq. ft.
All
All
400 - 500 sq. ft.
500 - 600 sq. ft.
600 - 700 sq. ft.
700 - 800 sq. ft.
800 - 900 sq. ft.
900 - 1000 sq. ft.
1000 - 1100 sq. ft.
1100 - 1200 sq. ft.
1200 - 1300 sq. ft.
1300 - 1400 sq. ft.
Use arrows or drag image to pan right or left
Got it!
Features & Finishes
Kitchen
Six-piece appliance package (4 stainless kitchen, 2 stacked white washer dryer).
Quartz kitchen countertops.
Stainless steel under mounted sink. 
Contemporary design faucet with integrated pull-out sprayer. 
Ceramic tile backsplash, from builder's standard samples.
Suite
9'0 Smooth ceilings.
Choice of designer-selected laminate flooring in living/dining areas foyer and bedrooms.
Individually controlled heating and cooling. 
Variety of floorplans and layouts available to suit your personal tastes.
Vista balcony or grand terrace overlooking the bustle of the city.
Bath
Glass tile backsplash. 
Soaker tub in main bath, framed glass shower in ensuite bath.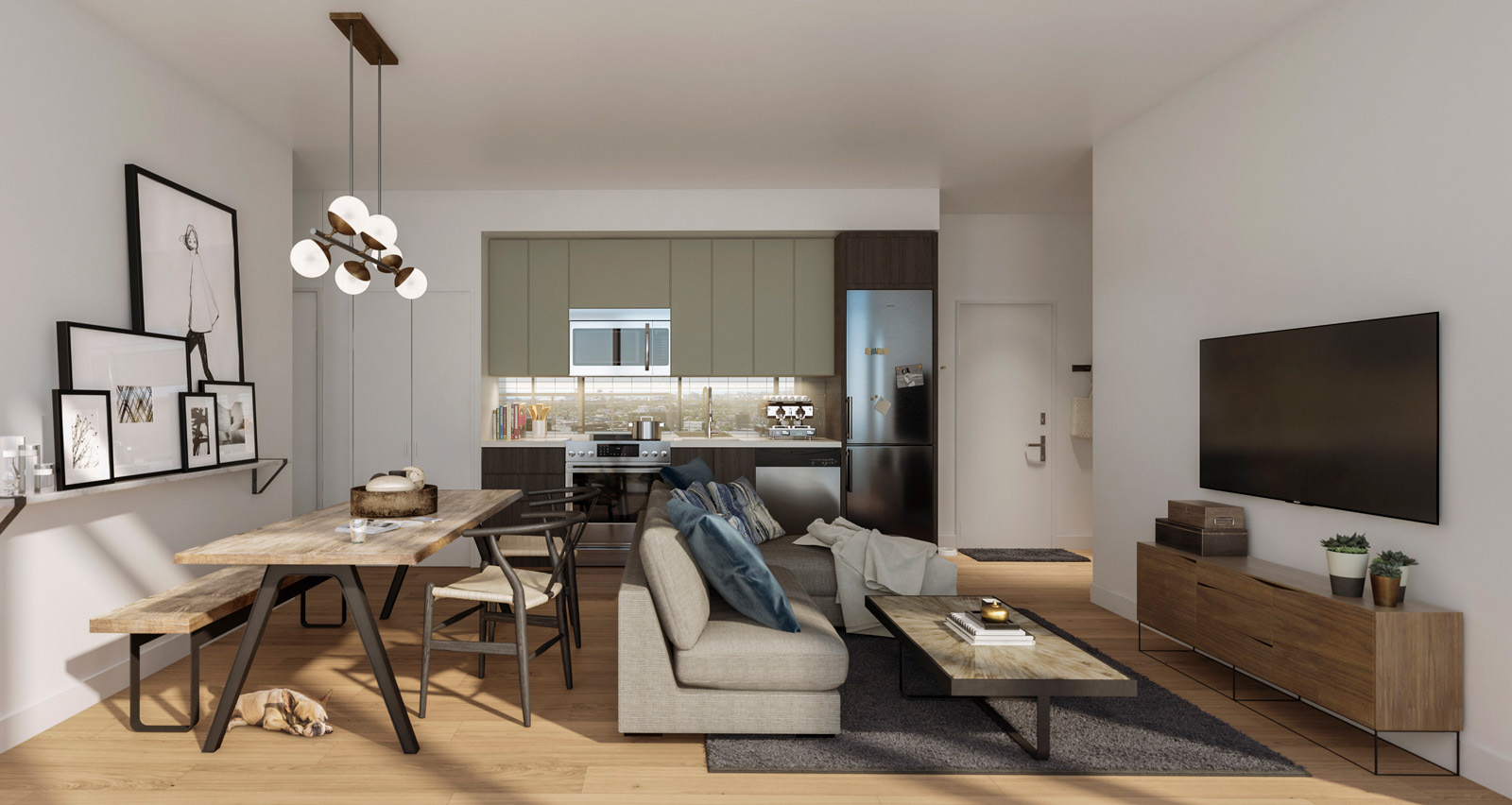 Polished chrome wall mounted rain showerhead. 
Custom designed vanity with solid surface acrylic integrated sink.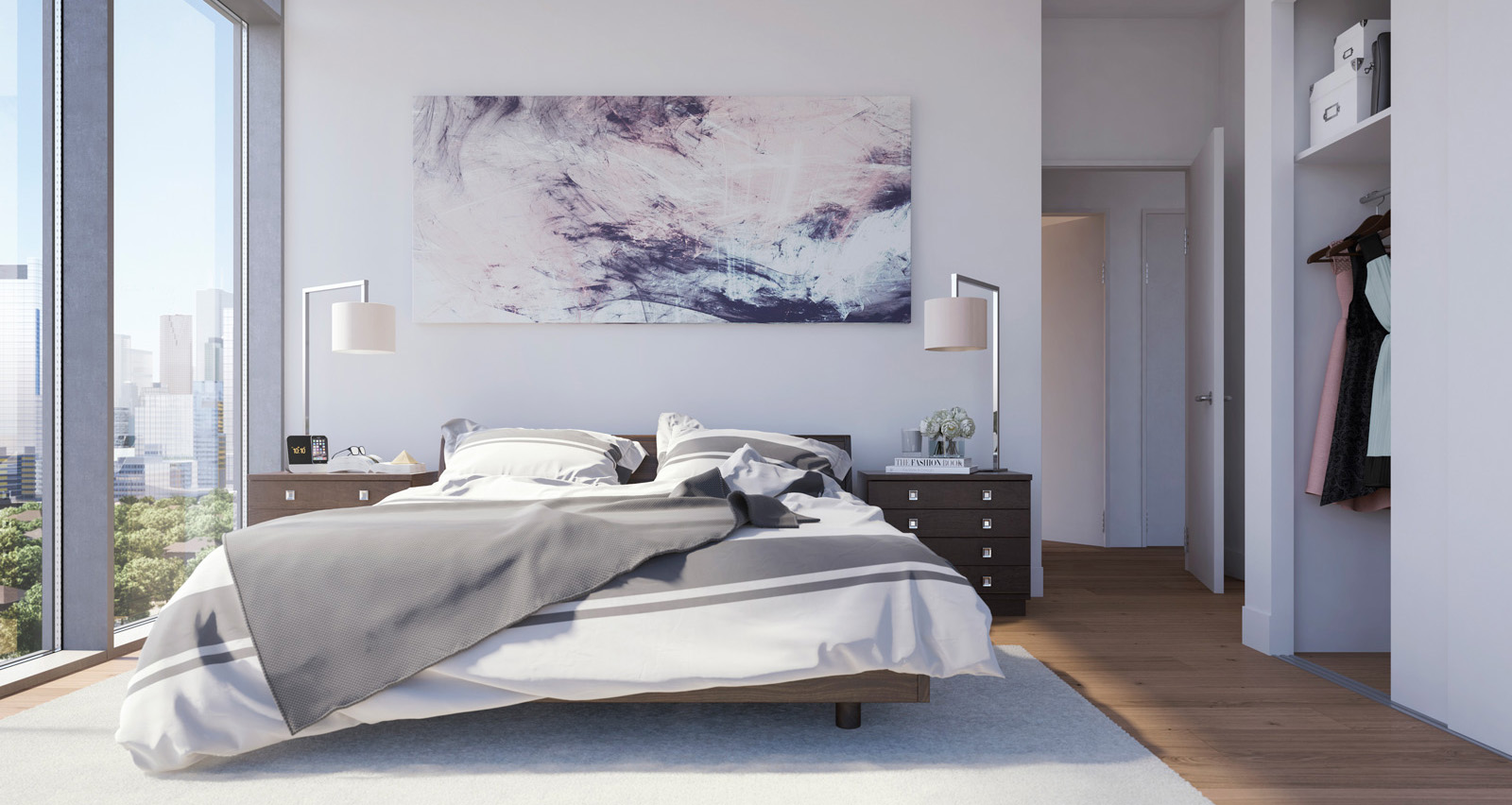 For 40 years Great Gulf has continued to transform the way homes are built. We've built our reputation by continually seeking to marry design, innovation, construction technology and craftsmanship in new and exciting ways, to create homes that are quieter, brighter, healthier, more energy efficient and not quite simply, better built. That's the Great Gulf difference.
Over the past 60 years Hullmark Developments Ltd has been
committed to shaping a vibrant urban Toronto. As city builders and
city dwellers, we believe in the potential of our great city, and are
passionate about designing and enriching the places we invest in and
call home.